Unell, Earl
Published: Thursday, 23 March 2017 10:00
Written by KCJC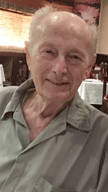 Earl Unell, 88, of Kansas City, Missouri, passed away March 18, 2017. Funeral services were held at The Louis Memorial Chapel March 20, 2017; burial followed at Mount Carmel Cemetery. Kindly omit flowers. The family suggests that contributions be made to Congregation Beth Shalom or Kansas City Hospice Foundation.
He was born Dec. 7, 1928. He graduated from Westport High School, served as a proud Marine, and earned a master's degree from UMKC. Earl started with a career in real estate, then worked for IBM, Waddell and Reed, and retired from the personnel department of Kansas City, Missouri.
He enjoyed his worldly travels, especially his trips with his wife to Paris, Israel, Tahiti, Barcelona, Portugal, Fiji, Australia, New Zealand, and many cruises. Earl had a great sense of humor and enjoyed spending time with his family and friends (you know who you are).
He was preceded in death by his parents Joseph and Anita Unell and his sister Lillian Simon.
Earl is survived by his college sweetheart/wife of 56 years Shirley Reisbord Unell; his three children: Eileen Kershenbaum (Bruce) of Leawood, Kansas, Lisa Unell of New York, New York, and Joe Unell (Marcia) of Scottsdale, Arizona; his granddaughters Kylie, Kirsti, Lexi, Gennifer, Alyssa and Emma, and granddogs Ziggy and Miley. In addition, he is survived by his brother Sherman Unell of Santa Cruz, California, his sister-in-law Gloria Sherman (Dick) of Overland Park, Kansas, his sister-in-law Haya Reisbord of Encino, California, and numerous nieces and nephews.
Online condolences may be left for the family at www.louismemorialchapel.com.
Arrangements by The Louis Memorial Chapel, 816-361-5211.