White, Shirley
Published: Thursday, 23 March 2017 10:00
Written by KCJC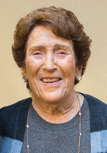 Shirley Ann Copaken White passed away peacefully on March 15, 2017, at her home. She would have been 90 years old on June 6. A celebration of life was held March 17, 2017, at the Lewis and Shirley White Theatre on the Jewish Community Campus; private burial at Mount Carmel cemetery preceded the service.
Kindly omit sending flowers and food and instead make a donation in Shirley's memory to Jewish Family Services, Jewish Federation of Greater Kansas City, Kansas City Hospice and Palliative Care or a charity of your choice.
Shirley was the oldest child of Herman and Dorothy Copaken. She graduated from Paseo High School and continued studying at the University of Minnesota, graduating with a teaching degree. After returning to Kansas City, she married the love of her life, Lewis White, on June 15, 1949. They were married for 53 years.
She was a lifelong area resident and loved knowing the whole community around her. She loved being with her family and friends any time she could. Shirley became active in Hadassah as a child and continued that association through her adult years. She spent much of her life in the Jewish community, helping others and being an instrumental part in enriching Jewish life in Kansas City. She was active in Women's Division of Federation, the Jewish Community Center and was the driving force behind getting the Lewis and Shirley White Theatre built on the Campus for the entire Kansas City community to enjoy. In 2010, she was awarded the Kipnis-Wilson-Friedland award through the Jewish Federation Lion of Judah program.
Shirley is survived by her son and daughter-in-law Jerry White and Cyprienne Simchowitz, daughter Linda White of New York City, and daughter and son-in-law Sandi and Ed Fried; six grandchildren: Chloé and Jordan White; Maggie, Josh, Gabrielle and Eli Fried; sister and brother-in-law Rita and Irwin Blitt; brother and sister-in-law Paul and Bunni Copaken; and numerous nieces and nephews.
A special thank you to those who cared for her so lovingly the last two years including Dr. John Dunlap, Stacy Crawford, Michele Runions, Neema Johari and Whitney Stephens with help from Erica Barnes as well as Kansas City Hospice staff, LaToya and Josh.
Online condolences may be left for the family at www.louismemorialchapel.com.
Arrangements by The Louis Memorial Chapel, 816-361-5211.