Robinson, Florence
Published: Thursday, 16 March 2017 10:00
Written by KCJC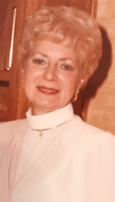 Flo Robinson passed away March 10, 2017, in her home in Scottsdale, Arizona. She recently celebrated her 90th birthday with all of her family and friends at her son's home in Phoenix, Arizona.
Flo was born in Brooklyn, New York, on Oct. 10, 1926, and spent her teenage years in Lincoln, Nebraska. She met her husband, Norman, during her freshman year at the University of Nebraska at a sorority party, which he was attending as an Air Force enlistee stationed in Lincoln. They married in 1944 and started their life in Phoenix. They moved to Kansas City in 1961 with their three sons: Robbie, Michael and Scott, and remained in Kansas City until Flo retired and sold her business, Central Personnel, in 1998.  
Flo was preceded in death by her husband of 63 years, Norman E. Robinson, as well as her brothers Stanley and Leonard Pachman, and her grandson Brian Douglas Robinson.
Flo is survived by her sons, Robbie (Deborah) of Phoenix; Michael (Carm) of Northbrook, Illinois; and Scott (Linda) of Lawrence, Kansas, as well as her grandchildren Stacee Shipley, Marc Robinson (Megan), Adam Robinson, Alex Robinson, Matt Baker (Laura), Lauren Baker, Bret Robinson, Erin Robinson and great-grandchildren Hayes Shepard, Mya Shipley, and Lily Baker.
Flo will be buried at the Sinai Cemetery in Phoenix on Sunday, March 19, 2017.
Donations to the charity of your choice in her name are appreciated.