Nerman, Jerome Stanley
Published: Thursday, 09 March 2017 10:00
Written by KCJC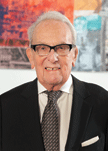 Jerome Stanley Nerman passed away Feb. 28, 2017. Funeral Services were held March 3, 2017, at Kehilath Israel Synagogue; burial followed at Mount Carmel Cemetery.
Jerry was born Feb. 26, 1920, in Kansas City, Missouri. He is survived by his wife of 75 years, Margaret; his only child, Lewis, (Sue); his grandson, Greg (Ashley) and great-granddaughter, Penelope.
Jerry was born to Gilbert and Rebecca Nerman. Jerry went to Horace Mann Elementary School at 39th and Woodland and graduated from Westport High School. He worked at Zeff's Men's Store and Margaret worked at Rubin's Women's Store. Jerry met Margaret and they were married on Aug. 8, 1941, at Beth Shalom Synagogue by Rabbi Haddas.
Jerry enlisted in the Army following Pearl Harbor and was deployed to Europe in 1942. He first served in the Quartermaster office in Cheltenham, England. He was then shipped to Normandy and arrived on D6, five days after the invasion. His next assignment was to go to the Battle of the Bulge and his company was sent to the south of France to do infantry training. While there, he was the supply sergeant of the camp. Fortunately, they were never deployed to the front and as a reward for his excellent service as supply sergeant, Jerry was sent to the Office of Strategic Service in Bad Orb, Germany. He wrote a V-mail to Margaret every day during his deployment. Jerry came home from the war in 1946. 
He was a traveling salesman, then worked at the Green Crest Motel. His first job in sales was at Rudy Fick Ford. In 1950, he partnered with Melvin Spitcaufsky and founded Arrow Truck Sales. Arrow grew to be the largest preowned truck business in North America with 18 locations in the United States and Canada. In 1998, Volvo Trucks of North America bought Arrow Truck Sales.
Jerry was an avid patron of the arts and philanthropist. He began collecting art during the war when he bought two pastels in Paris and sent them home. His best friend, Dr. Dominick Tutera, encouraged him to collect French and Russian bronzes. After several years, he had no more room for bronzes and Margaret told him they needed something for the walls. In the 1970s, he started collecting contemporary art which had a dramatic effect on his life. Jerry's motto was the three S's: Searching for the art, securing the art, and sharing the art. Jerry supported many individuals, organizations and charities including: 
Chairman of Central Bank of Kansas City
Jerome Nerman Scholarship Fund for the Used Truck Association
Used Truck Lifetime Achievement Award
President and Founder of Used Truck Association
Truck Bluebook Jerome Nerman Industry Achievement Award
2005 Kathleen Sibelius bestowed The Governor Art Award 
Board Member Kemper Museum of Art
2006 Art and Antiques magazine named them one of the top 100 collectors in America.
2007 Nerman Museum of Contemporary Art opened at Johnson County Community College.
2007 The Nerman Gallery opened in the Bloch wing at the Nelson-Atkins Museum 
2008 Jerry and Margaret received honorary doctorates from the Kansas City Art Institute
Truman Library Decision Room
Science City Union Station in memory of Dr. Dominic Tutera
2015 endowed the Office of the President at the Kansas City Art Institute
2016 honorary chairs of Arts KC Breakfast
2016 Jewish Community Center Lifetime Membership Award
We are very grateful to Dr. John Dunlap for his excellent care, and Dr. Stanley Brand and many other wonderful physicians who have taken care of Jerry. Special thanks to Shauna Bajich. We also thank our excellent caregivers: Asma Jouhari, Ruth Tezera, Aster Tezera, Camille Johnson, Kimberly Vincent and Brenda Murray.
The family requests no flowers or food. Donations may be made to the Nerman Museum of Contemporary Art, 12345 College Blvd., Overland Park, KS 66210 or the Kansas City Art Institute, 4415 Warwick Blvd, Kansas City, MO 64111.
Online condolences may be left for the family at www.louismemorialchapel.com.
Arrangements by The Louis Memorial Chapel, 816-361-5211.