Cohen, Ann Morse
Published: Thursday, 02 March 2017 12:22
Written by KCJC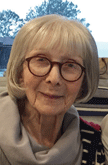 A free spirit, a person who loved fashion and design, an avid reader of Vogue and Harper's Bazaar and the New Yorker, Ann Morse Cohen was one of a kind. She frequented museums, concerts, dance performances and loved traveling.
She died of natural causes on Tuesday, Feb. 21, 2017, at the University of Kansas Medical Center. Ann was born on July 3, 1932. in Brookline, Massachusetts, to Alan and Theresa Morse.
Ann was known for her sweetness and caring nature. She had an infectious laugh, which brought a smile to all who knew her. She was close to her family and enjoyed time together with them.
Ann was a good friend to those who knew her. She exuded warmth, displayed curiosity for the world around her. Those who knew her were touched by her sparkle and genuine affection for them. She was never happier than when she was spending time with her family.
Ann was active in civic activities volunteering over the years at the Brandeis book fair, the Lyric Opera Guild and, more recently, serving as treasurer of the Village Shalom Resident's Association.
Ann enjoyed working, most especially in retail. Stints included working as a buyer at Halls Crown Center; as a salesperson at a Hallmark Card shop; and the Jones Store. For the last 13 years she has spent time as an aide in the classroom working passionately with the same teacher at Sunrise Pointe Elementary School where children fondly called her Miss Ann.
She leaves behind her son Thomas (Lena), daughter Margo (Kevin), and her grandchildren Tessa Cohen and Justin Cohen (both of greater Kansas City), Rebecca Beames (New York City) and Shiloh McKinnon (San Francisco). Also left behind is her brother Alan, wife Cessily and sister Edith (predeceased) along with many nieces and nephews.
Ann loved pets and leaves behind her faithful poodle Muffin. She also leaves behind many wonderful friends that she met during her residency at Village Shalom.
Ann never lost her love for New England, which for her included ocean sailing, fried clams, fresh fish, lobster, fresh corn on the cob, and sailing.
She will be sorely missed. We love you Mom and know that you are in a good place.
In lieu of flowers, the family requests contributions to the following charities: Village Shalom of Kansas City, KC Pet Project, or Jewish Family Services of Kansas City.