Lewitton, Sol
Published: Thursday, 23 February 2017 10:00
Written by KCJC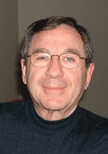 Sol Lewitton, dearly loved husband of Noreen and dad of Michael, Derek and Steve, passed away on Friday, Feb. 10, 2017. He was born on Sunday, Dec. 10, 1933, in Oudtshoorn, Cape Province, South Africa, to Bessie and Menachem Mendel (Max) Lewitton.
Both of his parents had been previously married and widowed and his father brought four children to the marriage, his mother brought two sons to the marriage. Sol was the seventh child in the family, followed four years later by a sister. It was not always a harmonious household and from a very early age Sol thought of himself as the bridge between the various factions and strove to keep the peace. Striving to "keep the peace" was a role he retained throughout his life.
After completing high school at the age of 16, he left the small farming community of Oudtshoorn for the "Big City" to attend medical school at the University of Cape Town, from which he graduated in 1955, one week before his 22nd birthday. Following his graduation from medical school his adventures took him to a variety of positions in South Africa and a two-year stint in London.
At the end of 1966 he met the former Noreen Barlin on a blind date and they married in July 1967. Sol completed his training as a general surgeon and the family established their home in Durban, South Africa, where Sol went into private practice. All three sons were born in Durban.
In 1976 the family relocated to the United States, settling in Kansas. Sol joined an established surgical practice in Kansas City. No one ever enjoyed their work more than he did. He loved what he did. Helping people was what he enjoyed most in life and his greatest joy was doing everything he possibly could for his beloved family. Repeated hand surgeries meant that he was forced to retire as a surgeon in 2002. Sol then went to work at the Military Entrance Processing Station (MEPS) doing physical examinations on new recruits. There he soon made friends with a whole new group of colleagues.
In 2006 Sol and Noreen moved to Houston to be closer to their three beloved grandsons. In Houston, he continued working at the MEPS until health issues forced his retirement.
This kindhearted, caring, sweet man with his keen intellect and quick wit will be deeply mourned and sadly missed by his wife, his children and their spouses and five very much loved grandchildren as well as family and numerous dear friends scattered around the globe. The funeral was held on Sunday Feb. 12, 2017, at the Beth Yeshurun Post Oak Cemetery. 
If you wish to make a donation in his memory, please consider Holocaust Museum Houston, Congregation Beth Yeshurun (discretionary fund of Rabbi Brian Strauss) or Magen David Adom.
Arrangements by Houston Jewish Funerals.