Cohen, Carol Marie
Published: Thursday, 26 January 2017 11:30
Written by KCJC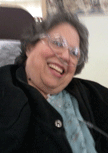 Carol Marie Cohen, a lifelong resident of the Kansas City area, passed away at age 66 at Olathe Medical Center on Jan. 21, 2017, after a long illness. Funeral services were scheduled for 1 p.m. Wednesday, Jan. 23, at The Louis Memorial Chapel, with burial to follow at Sheffield Cemetery. In lieu of flowers, the family suggests contributions to Children's Mercy Hospital, Hadassah or the Midwest Center for Holocaust Education.
Born Aug. 23, 1950, she was the daughter of the late Philip and Eunice "Dee Dee" Cohen, and granddaughter of the late Nathan and Vita Goldberg and the late Samuel and Elizabeth Cohen.
Carol is survived by her sister, Susan Cohen, of Kansas City, and her brother, Martin Cohen and his wife Rabbi Randy Sheinberg, of Long Island, New York; her beloved nieces, Ariel Cohen and Paola Cohen, and by numerous cousins.
She was a member of Kehilath Israel Synagogue and a Life Member of Hadassah. 
Carol served as an interviewer and received an on-screen credit for the Midwest Center for Holocaust Education's documentary, "The Holocaust: Through Our Own Eyes," and she was a volunteer for the Center and other Jewish organizations.
She was a graduate with honors of the University of Kansas and did graduate work in history at McGill University and retained a lifelong interest in history and politics.
With her sister, she received an Outstanding Business Person award from the National Association of Tobacco Distributors. 
Online condolences may be left for the family at www.louismemorialchapel.com.
Arrangements by The Louis Memorial Chapel, 816-361-5211.