Holsberger, Denise Renee
Published: Thursday, 24 April 2014 10:00
Written by Marcia Montgomery, Community Editor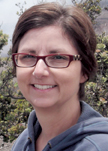 Denise Renee Holsberger, 43, passed away on Sunday, April 20, 2014, surrounded by her family.
Left behind to mourn her loss is her dedicated husband, Jim, who never left her side during her seven-year battle with cancer. Her strength and fortitude was an inspiration to all her remaining family and friends, who will miss her terribly.
Funeral services were held at Congregation Beth Torah on April 22, followed by burial at Congregation Beth Torah Section in Mount Moriah Cemetery, 10507 Holmes Rd., Kansas City, Mo.
Arrangements under the direction of Mount Moriah & Freeman Funeral Home, Kansas City, MO.