Merker 65th Anniversary
Published: Thursday, 26 December 2013 12:00
Written by Marcia Montgomery, Community Editor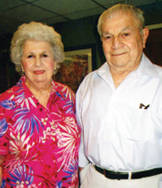 Carolyn and Morris Merker celebrated their 65th anniversary on Dec. 25. They were married in 1948 at Congregation Beth Shalom by Rabbi Gershon Hadas.
The Merkers have two sons, Randy and his wife Gail and Richard and his wife Jennie. Grandchildren are Brian (Carrie), Adam (Sara), Oliver (Wendy) and Sarah (Mike). Great-grandchildren are Ayla, Autumn, Ben, Henry, Eva, Aedan, Mariah and Ellie.
They said they have been truly blessed.