Becker and Mayer 90th
Published: Wednesday, 27 November 2013 12:00
Written by Marcia Montgomery, Community Editor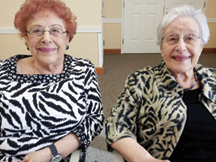 Twins Alice Shostak Mayer and Emma Shostak Becker were born on Nov. 23, 1923, in Kansas City, Mo., and celebrated their 90th birthday with a family brunch at Village Shalom on Nov. 24.
Mayer's children and three grandchildren and Becker's children, four grandchildren and two great-grandchildren were all on hand to help celebrate, including those from out of town.
Mayer lives at Village Shalom and Becker lives at The Atriums, both in Overland Park.