Wasserman Birth
Published: Thursday, 16 November 2017 10:00
Written by KCJC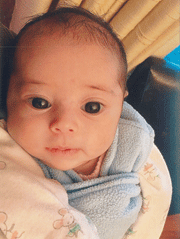 Dr. Taryn Gort-Wasserman and Matthew Wasserman of Overland Park, Kansas, announce the birth Sept. 29, 2017, of a daughter, Nora Ivy Wasserman. They are also the parents of Mikaela Kalina and Henry Jacob.
Grandparents are Alan and Janice Wasserman of Leawood, Kansas; DebraLee and Derrick McGee of Kapolei, Hawaii; and the late Peter Henry Gort.
Nora is the great-granddaugther of the late Minnie and Sam Schwartz and the late Leah and Solomon Wasserman.