Starlight Theatre honors Howard and Ro Jacobson with 2017 Star Award
Published: Thursday, 07 September 2017 10:52
Written by KCJC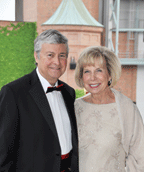 Longtime Starlight Theatre supporters and community advocates Howard and Ro Jacobson will be honored with the prestigious 2017 Star Award at the 31st Annual Starlight Theatre Gala on Saturday, Sept. 23, at Starlight Theatre.
The annual award is given to a deserving individual or couple that have made a significant impact on the Kansas City community.  
As longtime season subscribers and devoted donors, the Jacobsons have contributed greatly to Starlight's success. Their history with Starlight dates to childhood. During visits to the zoo, Howard's father would eagerly point out the new theatre under construction in Swope Park to Howard and his siblings. When Starlight opened, the Jacobson family attended a few shows each summer. For Ro, her father, Jerome "Jerry" Cohen, was one of Starlight's biggest supporters from its very beginnings. On the board of Kansas City Parks & Recreation, Jerry helped to form the nonprofit Starlight Theatre Association in 1951. Nearly 50 years later, he and his wife, Jeannette, made the lead gift for Starlight's new stage.  
As a couple, Howard and Ro have created a Starlight legacy of their own. Both have served multiple years on the Starlight board of directors. They have given generously to multiple fundraising efforts and have financially supported the Starlight STARS of Tomorrow youth performance troupe for many years, giving hundreds of Kansas City high school students the opportunity to hone their musical theatre skills through professional training and performance.   
Howard Jacobson has more than 50 years of investment experience, including positions with E.F. Hutton & Co. and UMB Bank. He also served as president and chairman of Electronic Business Equipment, Inc. and Dynamic Computer Solutions, Inc. In 1998, Howard founded Paragon Capital Management LLC and was named one of the Best Personal Wealth Managers in Kansas City by KC Magazine for five years. He also has a rich and varied history of community involvement, having served on numerous boards and as president and chairman of the Jewish Community Center, president of the Jewish Federation of Kansas City and Jewish Community Campus, and vice president of the Jewish Community Foundation.  
Ro Jacobson has also contributed greatly to the Kansas City community, both as a teacher in the Shawnee Mission and Center school districts and dedicated volunteer. She has been active in school PTAs and served on the boards of several organizations, including Starlight and Friends of the Zoo. She chaired the Richard Bloch Cancer Hotline, served as community care chair of the United Way, and was a docent for the Nerman Museum of Contemporary Art. Ro has also volunteered for Safehome and the Nelson-Atkins Museum of Art.  
"Both Howard and Ro have made tremendous contributions to Starlight Theatre and much of the Kansas City community," said Rich Baker, president and CEO of Starlight Theatre. He continued, "Their commitment to keeping arts accessible to all, particularly to young people across our city, is an inspiration and a model we all should emulate." 
The 2017 Starlight Theatre Gala takes place on Saturday, Sept. 23. Tickets are still available and include cocktails in the Helzberg Garden of the Stars, a multicourse meal on the Jeannette & Jerome Cohen Stage, live entertainment, the reveal of Starlight's 2018 Broadway season and an after party in the Applause Club. For more information, visit the Starlight Theatre Gala webpage or contact Andrew Lang at 816-997-1129 or This email address is being protected from spambots. You need JavaScript enabled to view it.