Unowsky Bar Mitzvah
Published: Thursday, 17 August 2017 11:16
Written by KCJC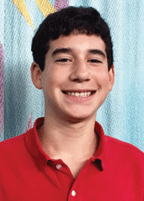 Keri and Daniel Unowsky announce the Bar Mitzvah of their son, Micah Nathan, on Saturday, Aug. 26, at Beth Sholom Synagogue in Memphis, Tennessee.
Micah is the grandson of Elliott and Linda Goldstein of Overland Park; the late Sandra Weisberger Goldstein; Noel Rosenbaum and the late Karl Putnam of El Paso, Texas; and Joel and Nancy Unowsky of Tucson, Arizona.
Rabbi Sarit Horwitz, the daughter of Rabbi Daniel Horwitz, and Rabbai Ilan Glazer will officiate at the service.