Schifman Nathanson Engagement
Published: Thursday, 27 July 2017 10:00
Written by KCJC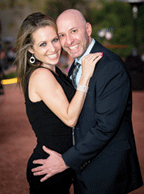 Mr. and Mrs. Edward Schifman of Naples, Florida, announce the engagement of their daughter, Lori Anne Schifman to Craig Mitchell Nathanson, son of Jeffrey Nathanson and Leslye Mylott of Boynton Beach and Delray Beach, Florida.
The bride-to-be is the granddaughter of Dorothy and Herman Schifman. She attended the University of Denver where she earned a Bachelor of Arts degree in psychology with a double minor in communications and sociology.
She is employed as a senior strategy and special projects recruiter at Davita Healthcare Partners in Denver, Colorado. The future groom is the grandson of Arnold and Ruth Nathanson and Harry and Charlotte Ferstman. A member of AEPi fraternity, he attended The Ohio State University, where he earned a Bachelor of Science degree in consumer affairs with a CAIA designation. He is currently senior vice president of Fixed Income Trading, Inc. with Western Securities in Boca Raton, Florida.
An Oct. 15 wedding at The Ringling Estate in Sarasota, Florida, is planned.