Fehr Mankiewicz Engagement
Published: Thursday, 06 July 2017 10:00
Written by KCJC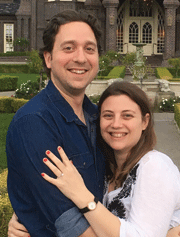 Stephanie and Donald Fehr of Rye Brook, New York, previously from Kansas City, announce the engagement of their daughter, Rachel Lynn Fehr, to Christopher Mankiewicz. The couple currently lives in San Francisco, California. Rachel is originally from Rye Brook, New York, and Chris, the son of JoAnna and Leo Mankiewicz of Surprise, Arizona, grew up in San Francisco. 
The future bride is the granddaughter of the late Sylvia Ruth Eveloff Feldman of Overland Park, Kansas, Irene Gulko Fehr and the late Louis A. Fehr, also of Overland Park.
Rachel attended Clark University, earning a BA in theater and a dual master's degree in education, birth-sixth grade from Sarah Lawrence College. She holds teaching certificates for general education, theater and special education. Rachel is in her seventh year of teaching and specializing in early childhood and special education. She is currently teaching at the Jewish Community Center Rosenberg in San Francisco.
The future groom is the grandson of Anthony Ciccolini and the late Josephine Ciccolini of New York and Eufemia Mankiewicz and the late Joseph Mankiewicz of New Jersey. 
Chris is an archive administrator at the Internet Archive, a digital library in San Francisco, California. Prior to working there, Chris worked in production for Jeffries Bank in Foster City, California, as well as for the media services department at SONY Pictures in Culver City, California. 
Rachel and Chris will be married in April 2018 at the Intercontinental Hotel in Kansas City, Missouri.