Truman Medical Centers' Katz wins Trust Builder Award
Published: Thursday, 06 July 2017 10:00
Written by Jerry LaMartina, Contributing Writer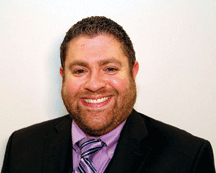 Seth Katz of Truman Medical Centers (TMC) in Kansas City, Missouri, has received a 2017 Trust Builder Award in the Health Information Management (HIM) category from TrustHCS of Springfield, Missouri.
Katz is associate administrator of information management for TMC. He was nominated for the award by co-worker Karen Reynolds for his ability to lead TMC's Health Information Management Department to include clinical documentation improvement (CDI) and physician engagement, TrustHCS said in a news release. 
Katz also led a project to fully outsource TMC's medical record coding and negotiated jobs for 24 members of TMC's coding team with the outsourced coding provider.
"HIM is really about supporting our clinical and operational sides of health care," Katz said in an interview. "This includes things like billing, medical records, data collection and patient engagement. HIM is a hub between all those groups." 
Trust Builder Awards, which TrustHCS started this year, recognize those in health information management, clinical documentation improvement and revenue integrity fields who build trust among multiple groups and help improve the health of their organizations, the company said in the release. Mark Schroeder, electronic health records manager for Norton Sound Health Corp. in Nome, Alaska, also won a Trust Builder Award.
Katz was born in Kansas City, Missouri, and grew up in Prairie Village. He belongs to Congregation Beth Shalom and is co-chair of the Jewish Federation of Greater Kansas City's board for young adult giving.
He also teaches quality methods in health care as an adjunct professor at the University of Kansas Medical Center and teaches at the Health Sciences campus of Metropolitan Community Colleges.
Katz wrote a novel called "A Tale of Two Worlds," published in 2016, and has written practice briefs in the Journal of the American Health Information Management Association. He dedicates 80 hours a year to guide HIM students with internships in his department at TMC.
"The field of nominees for 2017 was full of leaders across the United States who had made extraordinary impacts within their organizations," TrustHCS President Torrey Barnhouse said in the release. "However, when our nomination review committee examined the nominations for Mark and Seth, it was clear they were ideal for recognition."
A donation in the amount of $2,500 was made in the name of each Trust Builder Award winner to a charity of the winner's choice. Katz designated the donation in his honor to Jewish Federation of Greater Kansas City.
TrustHCS is a health care advisory and staffing services company for ambulatory, acute and post-acute care organizations.