Schiff Fish Engagement
Published: Thursday, 15 June 2017 10:00
Written by KCJC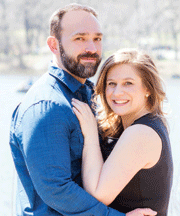 Joel and Annette Fish of Overland Park, Kansas, announce the engagement of their daughter, Cara Fish, to Michael Schiff, son of Martin and Seijasisko Schiff of the Bronx, New York.
The bride-to-be is a graduate of Wichita State University and currently owns her own business as an events coordinator and personal assistant. She is the granddaughter of Rowena Jacobs and the late Jack L. Jacobs, and Gloria Fish and the late Leon Fish. 
The future groom is a graduate of The City College of New York and works as a freelancer in film and video production. He is the grandson of the late Solomon and Rose Schiff of the Bronx, New York, and the late Valio and Kerttu Suurnäkki of Finland.
A fall wedding is planned in New York. The couple will reside in the Bronx, New York.