Gilman Honor
Published: Thursday, 01 June 2017 10:00
Written by KCJC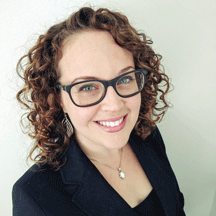 JFS Care Management Team Manager Laura Gilman was recently presented with the Field Instructor of the Year award for Avila University's Social Work program.
"We knew Laura was amazing with her clients, but she is equally talented mentoring and guiding young professionals and interns," said JFS Executive Director and CEO Don Goldman
Gilman was nominated by Moshit Snir, who completed her social work internship with JFS this spring
"It was really my honor to be Moshit's field instructor," Gilman said.
Gilman holds a bachelor's degree from Goucher College, a master's degree in clinical social work from University of Maryland and a master's degree in Jewish communal service from Towson University. She has been active in the field of aging since 2005.