Navran Bat Mitzvah
Published: Thursday, 25 May 2017 10:00
Written by KCJC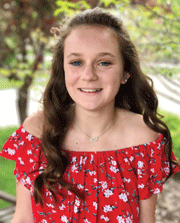 Tricia and Andy Navran announce the Bat Mitzvah of their daughter, Avery Navran, at 10:30 a.m. Saturday, June 3, at The Temple, Congregation B'nai Jehudah.
Avery is the granddaughter of Robert Navran and the late Elinor Navran, Susan and Irwin Levine and Nancy Engle and the late Earl Engle, all from Kansas City.
Relative and friends are invited to worship with the family and to attend the Kiddush following the service.