Abrams Bar Mitzvah
Published: Thursday, 18 May 2017 10:00
Written by KCJC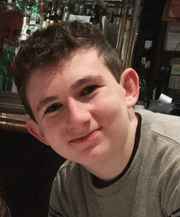 Stephen and Mara Abrams announce the Bar Mitzvah of their son, Geoffrey Abrams, at 9 a.m. Saturday, May 27, at Congregation Beth Shalom.
Geoffrey is the grandson of Erwin and Phyllis Abrams, and Robert and Barbara Rosen of Minnetonka, Minnesota.
Relatives and friends are invited to worship with the family and to attend the Kiddush Luncheon following the service.