Becker Kodner Engagement
Published: Thursday, 04 May 2017 10:48
Written by KCJC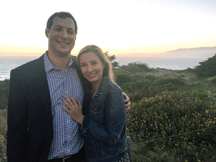 Haley Brooke Becker, daughter of Debbie Kaufman and the late Bruce Becker of Overland Park, Kansas, and James Martin Kodner, son of Nancy and Mark C. Kodner of St. Louis, Missouri have announced their engagement.
Haley is the granddaughter of Emma and the late Harry Becker of Overland Park,  and the late Jennie and the late Milton Loeffler of Kansas City, Missouri.
James is the grandson of Penny and the late Martin Kodner, and Ann and the late Elmer J. Schweiss, all of St. Louis. The bride-to-be attended Blue Valley North High School in Overland Park.She received a Bachelor of Science degree in strategic communications from the University of Kansas, where she was a member of the Sigma Delta Tau sorority. She is currently an account manager at LinkedIn in San Francisco. 
Her fiancé attended John Burroughs High School in St. Louis. He received a Bachelor of Arts degree in both economics and Chinese from Tufts University, where he was a member of the Alpha Epsilon Pi fraternity. He is currently an associate at Stockbridge Capital Group in San Francisco.