Maker Bar Mitzvah
Published: Thursday, 27 April 2017 14:58
Written by KCJC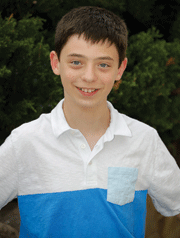 Stephanie Kolb and Josh Maker announce the Bar Mitzvah of their son, Asa Samuel Maker, at 10:30 a.m. Saturday, May 6, at Congregation Beth Torah.
Asa is the grandson of Sharon and Milton Katz of Overland Park, Kansas, and Pauline and Larry Maker of Toronto, Ontario, Canada. He is the great-grandson of Jerome Inger, originally of St. Louis, Missouri, and now living in Los Angeles, California.
Family and friends are invited to attend the Kiddush luncheon following the service.