Glickman Bat Mitzvah
Published: Thursday, 20 April 2017 10:28
Written by KCJC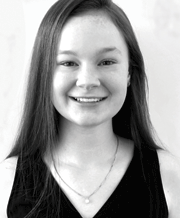 Pam and Ted Glickman announce the Bat Mitzvah of their daughter, Sydney Anne, at 9:30 a.m. Saturday, April 29, at Congregation Beth Shalom.
Sydney is the granddaughter of the late Sylvia and Irwin Kotelov and the late Patricia and Thomas Glickman.
Relatives and friends are invited to join the family at the Kiddush luncheon following the service.