Local student named one 2017's Shooting Stars
Published: Thursday, 23 March 2017 10:00
Written by KCJC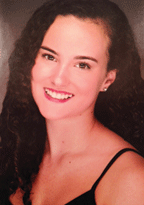 Shawnee Mission South student Stella Shapiro has been named by the Arts Council of Johnson County as a 2017 Shooting Star finalist. The Shooting Stars program honors Johnson County high school students for achievement in the literary, performing and visual arts through recognition and college scholarships. Shooting Stars award recipients will be announced at the 20th annual Shooting Stars Gala from 3-6 p.m. on Sunday, March 26, at Johnson County Community College.
Stella received another honor as she has had two piece of her artwork selected by the curatorial panel at Johnson County Library to be published in the library's "elementia" magazine, an award-winning literary arts magazine for teens. Her two works are titled "cool and warm" and "River."
"I have been doing art for a long time and to be recognized like this has been a real payoff," Stella said. "It feels great that people are interested in my art and want to see it."    
Since starting 20 years ago, the Shooting Stars program has awarded more than $200,000 in college scholarships and almost $65,000 in teacher honorariums. The program is supported by Johnson County and area foundations, corporations and individual donors. Individual tickets to the gala are $50.