Granoff Bat Mitzvah
Published: Thursday, 16 March 2017 10:00
Written by KCJC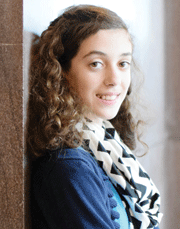 Dara and David Granoff announce the Bat Mitzvah of their daughter, Gabriella, at 9 a.m. Saturday, March 25, at Congregation BIAV.
Gabriella is the granddaughter of Myrna and Alan Papier of Boynton Beach, Florida, and Carol and Harvey Granoff of Fairlawn, New Jersey.
Relatives and friends are invited to worship with the family and to attend the Kiddush lunch following the service.