Balanoff Bat Mitzvah
Published: Thursday, 16 February 2017 10:00
Written by KCJC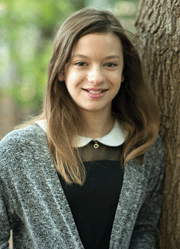 Christa and Brian Balanoff announce the Bat Mitzvah of their daughter, Olivia Graham Balanoff, at 10:30 a.m. Saturday, Feb. 25, at Congregation Beth Torah.
Olivia is the granddaughter of Dr. and Mrs. Arnold Balanoff of Overland Park, Kansas, and Mr. and Mrs. Lee Ruble of Umatilla, Florida.
Relatives and friends are invited to worship with the family and to attend the Kiddush luncheon following the service.
Photo by Scott Fishman