Urban League honors Judge Sachs
Published: Thursday, 29 December 2016 10:00
Written by KCJC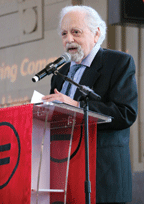 The Urban League of Greater Kansas City honored U.S. District Judge Howard F. Sachs as one of its Difference Maker award winners on Dec. 1, 2016.
The 91-year-old judge received the "Civil Rights Trailblazer" award for a lifetime of service to the community for his thoughtful approach to applying the law to advance and protect civil rights; and for his steady and persistent dedication to ideals of fairness and equality for all Americans. Also recognized at the annual luncheon were Dayton Moore, general manager of the Kansas City Royals, and the late Lantz Welch and the Welch Family Foundation.
"I was extremely pleased to be honored for service long ago and acknowledged that the award was made because I was a survivor of many others who were equally or more deserving," said Sachs. In his speech at the luncheon he said he mentioned Irving Achtenberg and Sidney Lawrence (executive director of the Jewish Community Relations Bureau from 1945-1972) from the Jewish community, "but could, of course, have named others, such as Esther Brown. There were some wonderful people doing great things in the 1950s and 1960s."
Judge Sachs was appointed to the federal bench by President Jimmy Carter in 1979 and served as chief judge of the United States District Court for the Western District of Missouri from 1990-1992. He assumed senior status on Oct. 31, 1992. He is a lifelong Kansas City resident and graduate of Southwest High School. During World War II Sachs served as a naval electrical technician's mate aboard the U.S.S. South Dakota in the Pacific Theater. Upon his discharge he returned to Williams College in Williamstown, Massachusetts, where he graduated as class valedictorian in 1946. Sachs receive his J.D. from Harvard Law School in the spring of 1950 before returning home to Kansas City.
During the early 1950s, Judge Sachs served as a law clerk to Judge Albert Ridge, U.S. District Court Judge for the Western District of Missouri. In the very chambers he would occupy nearly three decades later as a federal judge, Sachs drafted the historically significant decision to desegregate the Swope Park Swimming Pool. Future Supreme Court justice and then NAACP lawyer Thurgood Marshall successfully argued the case on behalf of three black plaintiffs who had been turned away when they tried to purchase tickets to the pool. In 1955, as a young practicing attorney in his own right, Sachs and a small group of attorneys successfully fought for the inclusion of black lawyers and women to the all-white, all-male Kansas City Bar Association. In 1956, as a member of the Kansas City Human Rights Commission, Judge Sachs embarked on what ended up being a five-year journey to convince the City Council of Kansas City, Missouri, to ban discrimination in hotels and restaurants. The council ultimately adopted Sachs' carefully tailored discrimination ban in 1961, and the resulting ordinance withstood an appeal to the Missouri Supreme Court.
In 1957, when a group of white civic leaders forced out the sitting Urban League Executive Director, Judge Sachs helped smooth the transition to new leadership by agreeing to step in as board chair during this tumultuous period in Urban League history. When Kansas City adopted a Fair Housing ordinance in 1968, a referendum effort to repeal the provision immediately ensured. When Martin Luther King, Jr. was assassinated and riots broke out in the city, Sachs and Spencer Fane colleague Bob Lyons convinced Mayor Ilus Davis to invoke an obscure emergency clause to keep the question off the ballot during these difficult times.
The Honorable Howard F. Sachs brought his Jewish heritage and civil rights background to the court. On the bench he rejected a reverse discrimination lawsuit, endorsed a prisoner's right to marry and sustained the validity of the U.S. Sentencing Guidelines. He is a past president of AJC, a past chair of the Jewish Community Relations Bureau and a current member of the JCRB|AJC Advisory Board.
The Difference Maker Awards are the highest honor annually bestowed by the Urban League of Greater Kansas City. Past recipients include Donald and the late Adele Hall, retired Sen. Christopher "Kit" Bond and U.S. Congressman Emanuel Cleaver.