Stein Bat Mitzvah
Published: Thursday, 22 December 2016 10:00
Written by KCJC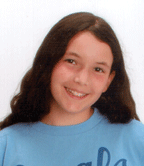 Marla and Gideon Stein announce the Bat Mitzvah of their daughter, Yael Dorit, in Jerusalem.
She will lead the Mincha service on Saturday, Dec. 24, followed by Ma'ariv, Havdallah and Hanukkah candle lighting. Yael will also be called to the Torah on Sunday morning, Dec, 25, at Robinson's Arch, the egalitarian prayer area adjacent to the Western Wall Prayer Plaza.
Yael is the granddaughter of Arlene Shalinsky and the late Leo Shalinsky of blessed memory. She is also the granddaughter of Wilfred and Chana Stein of Jerusalem.