Reiz Wedding Anniversary
Published: Thursday, 22 December 2016 10:00
Written by KCJC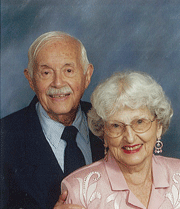 Andy and Zelda Reiz will celebrate their 70th anniversary on Dec. 29.
In 1942, Andy was living in New York City when he joined the U.S. Army Air Corps in World War II. Two years later and after four different stations, he found himself at Whiteman Air Force Base in Sedalia, Missouri.
One day he and his best friend Jack Levey decided to come to Kansas City for the Jewish holiday of Rosh Hashanah, and went to a synagogue at 39th and Montgall.
After services, Andy accepted an invitation from a congregant, Sarah Luke, for lunch at her home. Mrs. Luke's daughter, Zelda, happened to have prepared the meal and set the table and when Andy say her, Andy says that he fell in love with her at first sight.
Two years later on Dec. 29, 1946, after Andy was discharged from the service, they were married at Congregation Beth Shalom.