Weigensberg Wedding
Published: Thursday, 08 December 2016 10:00
Written by KCJC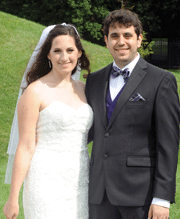 Lara Michelle Portnoy and Isaac "Zak" Weigensberg were married Sunday, Sept. 4, at Gezer Park, Leawood, by Rabbi Herbet Mandl and Rabbi Jeffrey Shron of Kehilath Israel Synagogue.
The bride is the daughter of Ellen and Jay Portnoy. She is the granddaughter of the late Frances and Donald Rosenberg; the late Leona and Paul Portnoy; and Eunice and Cliff Garrison.
The groom is the son of Linda and Efraim Weigensberg of Jerusalem, Israel. He is the grandson of Getrude Nassif and the late Dan Nassif; and the late Jean and Harvey Weigensberg.
The man of honor was the bride's brother, Michael Portnoy of Overland Park, Kansas. Bridal attendants were the bride's cousins: Sally Portnoy, St. Louis, Missouri; Michelle Rosenberg, Toronto, Canada; and Kate Lazar, New York City, New York. Flower girl was Ella Weigensberg, Modi'in, Israel.
The groom's five brothers were his attendants. Jake Weigensberg of British Columbia, Canada, was the best man. Groomsmen were Josh Weigensberg, Montreal, Canada; Arye Weigensberg, Modi'in, Israel; Eytan Weigensberg, Montreal, Canada; Gadiel Weigensberg, Holon, Israel.
This was the first wedding to be held in the beautiful setting of Gezer Park. The bride chose the spot for its connection to Israel.
The couple went on a honeymoon to the Catskills community of Kauneonga Lake, where the bride's family has a home. They live in Holon, Israel.