100th Birthday
Published: Thursday, 08 December 2016 10:00
Written by KCJC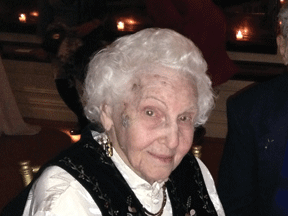 Adrienne Wormser Balagur will turn 100 on Dec. 12. She is mother to Richard Balagur (and Dottie Anderson) of Theford, Vermont, Linda Zappulla of Kansas City, Missouri, Carol Balagur of Huntington Woods, Michigan, and Ken Balagur (and Kim Reitz) of West Chester, Pennsylvania. She is also grandmother to Matt Zappulla of Golden, Colorado, and Annie Balagur of Berkeley, California.
Adrienne was born and raised in New York City. She travelled to Europe often as a child to visit her diplomat father in Austria and Portugal. She graduated Phi Beta Kappa from the University of North Carolina at Greensboro in 1938. She worked as a buyer at Macy's, and married Lester Balagur when he returned from military service in Europe. They raised their four children in Freeport, New York. Lester died in 1984, and a year later she sold the family home and bought an apartment in the same town. Her children and grandchildren all inherited her love for travel (and each of her four children have an MBA!) She lived in Freeport until selling her car and deciding to move closer to family at the age of 90. She now lives near her younger daughter in Royal Oak, Michigan. 
Mom is known for her wit, her way with words, and preferring wine over water. The family adores her, and will be celebrating together on Dec. 24.